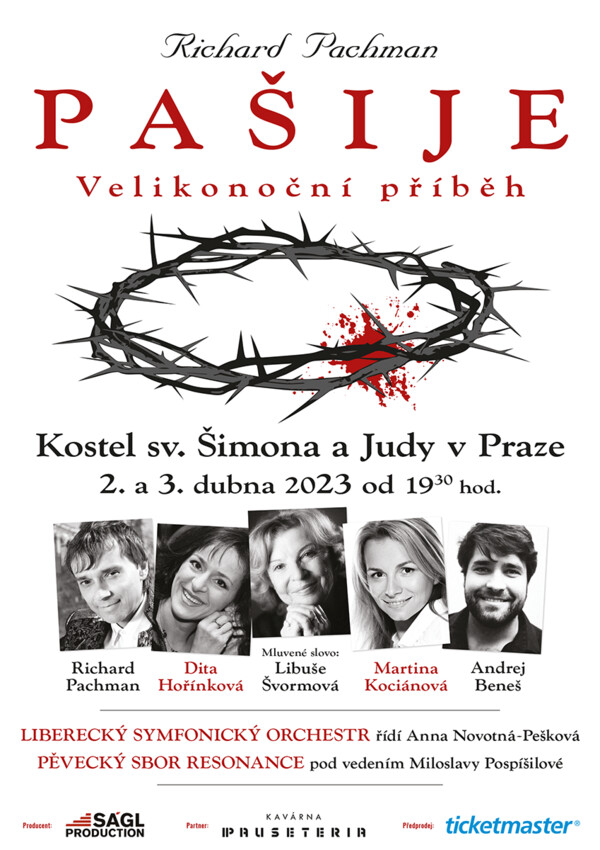 Passion
Magnificent Easter Concert
After the previous success, the Passion - The Easter Story of Richard Pachman will take place for the second time in Prague.
One week before Easter, on Sunday 2 April and Monday 3 April at 7:30 p.m., for the second time in Prague at the Church of Sts. Simon and Jude, Ságl Production will present a concert of Passions - An Easter Story by the composer Richard Pachman.
The Easter Story of Jesus Christ is the theme of the work by Richard Pachman, author of the libretto and music, which is conceived as a spectacular concert performance of compositions performed by the Philharmonic Orchestra, choir and soloists, in which the musical parts are linked by readings from the Bible.
The actress Libuše Švormová, the singers Martina Kociánová and Dita Hořínková and the opera basso Andrej Beneš shine in the performance. Of course, the author of the music Richard Pachman, who is sometimes nicknamed "the Czech Vangelis", will also be present. The soloists will be gracefully accompanied by the Liberec Symphony Orchestra under the baton of Anna Novotná Pešková. As in previous years, these concerts will not be without the Resonance Choir, directed by choirmaster Miloslava Pospíšilová.
"STOP RUNNING FOR A MOMENT AND INDULGE YOURSELF WITH BEAUTIFUL MUSIC, WORDS AND THOUGHTS."
Event overview
Download(s)
Back to overview
DELICATO CENTRUM a.s. is registered under file number B 15988, which is filed with the Municipal Court in Prague
IČO: 29039983, Registered office: Jeseniova 1196/52, Žižkov, 130 00 Prague 3
Copyright © 2007 – 2023 SÁGL PRODUCTION s.r.o.