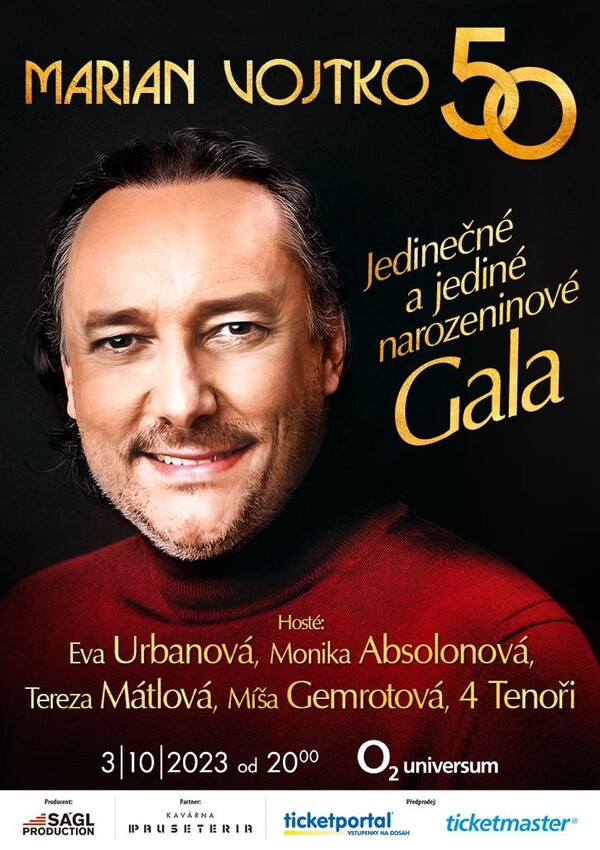 Marian Vojtko 50
The one and only Birthday Gala
Experience the unique and only birthday gala concert of Marian Vojtko, who is celebrating his round jubilee. Yes that's right, Marian is 50...
Marian Vojtko, winner of the Thalia Award, is well known from the musicals Les Misérables, Dracula, The Phantom of the Opera, Monte Cristo, Jekyll & Hyde, Cleopatra and others. He also excelled in famous works by Mozart, Strauss, Puccini, etc. Marian also has in his repertoire the world's famous hits of popular music and has countless vocal collaborations and projects to his credit. And most of this will certainly be recalled live in the 02 universe.
At this completely unique concert, you will also be treated to the likes of Eva Urbanová, Monika Absolonová, Tereza Mátlová, Míša Gemrotová and 4 Tenors, each with their own musical contribution and congratulations.
Marian's birthday present awaits us, full of emotions, star guests and unforgettable experiences, wrapped in a breathtaking atmosphere. We have tied a beautiful bow on it in the form of unique staging, exclusive arrangements and orchestrations. We will be part of an extraordinary evening with a beautiful setting, performed by a fantastic orchestra made up of leading musical personalities. Come and enjoy a true concert gem that will entertain, delight, move and celebrate the anniversary of our Marian Vojtko.
Back to overview
DELICATO CENTRUM a.s. is registered under file number B 15988, which is filed with the Municipal Court in Prague
IČO: 29039983, Registered office: Jeseniova 1196/52, Žižkov, 130 00 Prague 3
Copyright © 2007 – 2023 SÁGL PRODUCTION s.r.o.