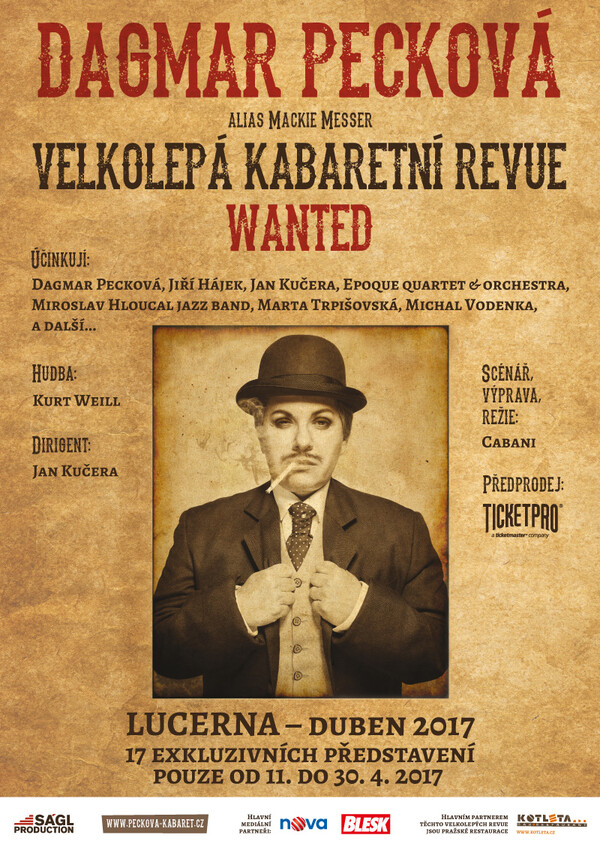 Wanted
Dernier
THE REVUE WANTED PAST US.
When we spoke about Wanted about half a year ago and how we sell-out Lucerna 17x, almost nobody believed it.
...
WELL IT HAPPEND.
...
THANK God
THANK to the directors Michal and Šimon Caban
THANK to the conductor Jan Kučera
THANK to the baritone Jiří Hájek
THANK to Ilona Labuťova and her whole crew
THANK to the excelent musicians and dancers
THANK to the EPOQUE QUARTET and ORCHESTRA
THANK to MIROSLAV HLOUCAL JAZZ BAND
THANK to JEDNOTKA RYCHLÉHO NASAZENÍ
THANK to Simona Rybáková and everybody in the mask
THANK to the perfect technitians lead by Jana Heřmánková
THANK to Lucerna - František Prajzler, Karel Šafařík and other colegues
THANK to all the partners of SÁGL PRODUCTION lead by Tomáš Moravec a Petr Pospíšil
THANK to the main media partners TV NOVA and BLESK
THANK to Jiří Hubač, Macíček, Martina Straková, Lucie Straková, Míša Komrsková and Lukáš Sommer
THANK to the ecellent catering from Kotleta Restaurant, Vláďa Rotti, Michal Košk a Lenka Prouzová
THANK to Hana Tietze, Karen Mchitarjanov and Jarda Urban
THANK to many and many more coworkers
...
BIGGETS THANKS BELOGS TO YOU, THE VIEWERS FOR COMMING, SOME OF YOU EVEN REPEATEDLY.
...
AND
...
THE UNBELIEVABLE ENERGY, THE PROFFESIONALITY, THE BULDOGNESS, ARTSMANSHIP, HUMANITY, FRIENDSHIP AND MORE AND ABOVE BEING INTO IT, WHICH BEARS YOUR NAMES.
...
DAGMAR PECKOVÁ
...
Dagmar, THANK YOU.
...
IT HAS BEEN AN HONOR.
...
Tomáš Ságl
...
Photo: Hana Brožková
Event overview
| | |
| --- | --- |
| Date(s): | 30. 4. 2017 |
| Beginning(s): | 19:00 |
| Venue: | Lucerna - Great Hall |
| Presale: | |
Back to overview
DELICATO CENTRUM a.s. is registered under file number B 15988, which is filed with the Municipal Court in Prague
IČO: 29039983, Registered office: Jeseniova 1196/52, Žižkov, 130 00 Prague 3
Copyright © 2007 – 2023 SÁGL PRODUCTION s.r.o.