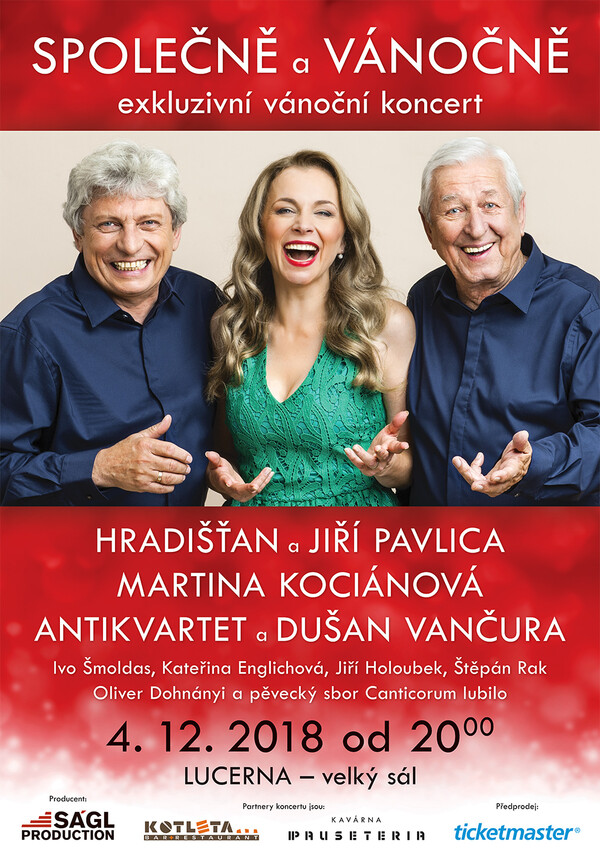 Together and Christmasy
2018
On December 4, 2018, another of a series of extraordinary concerts will take place in Prague's Lucerna Grand Hall. The event can be summed up by two words - TOGETHER AND CHRISTMASSY.
HRADIŠŤAN & JIŘÍ PAVLICA
MARTINA KOCIÁNOVÁ
ANTIKVARTET & DUŠAN VANČURA
KATEŘINA ENGLICHOVÁ
ŠTĚPÁN RAK
IVO ŠMOLDAS
JIŘÍ HOLOUBEK
OLIVER DOHNÁNYI & PĚVECKÝ SBOR CANTICORUM IUBILO
All these artists are bound by strong personal friendships and mutual sympathy. Our hosts, Martina Kociánová and Dušan Vančura will lead us through an evening full of beautiful music and festive mood. The performers will appear in unexpected connections. e.g. Hradišťan will play once alone and once together with Canticorum Iubilo, namely two parts of Pavlic's Missa Brevis. It will be conducted by Oliver Dohnányi.
The world-renowned harpist Kateřina Englichová will solo perform harp adaptation of Smetana's Vltava, accompanied by the singing of Martina Kociánová and the soloists of Antikvartet. Then Antikvartet will sing together with Jiří Holoubek and with a choir. Štěpán Rak will prepare a unique guitar version of the Czech anthem. Ivo Šmoldas will introduce you to his unique technique of Christmas gifts shopping. At the end of the evening, all performers and the audience will together sing Christmas songs and carols.
Come to Lucerna Grand Hall and set your soul to festive mood!
Exclusive Christmas Concert TOGETHER AND CHRISTMASSY
LUCERNA Grand Hall
December 4, 2018, at 8 pm

Event overview
| | |
| --- | --- |
| Date(s): | 4. 12. 2018 |
| Beginning(s): | 20:00 |
| Venue: | Lucerna - Great Hall |
| Presale: | |
Download(s)
Back to overview
DELICATO CENTRUM a.s. is registered under file number B 15988, which is filed with the Municipal Court in Prague
IČO: 29039983, Registered office: Jeseniova 1196/52, Žižkov, 130 00 Prague 3
Copyright © 2007 – 2023 SÁGL PRODUCTION s.r.o.