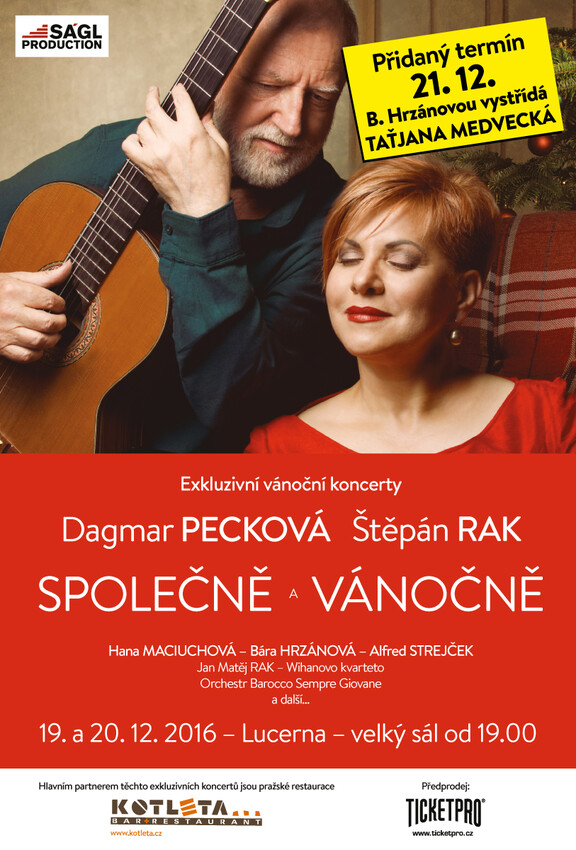 Together and Christmasy
D. Pecková, Š. Rak, 3 Sold Out Lucernas
Three sold out concerts at Lucerna. TOGETHER and CHRISTMASY - a joint concert of Dagmar Pecková, Štěpán Rak and other amazing guests are behind us. Let us quote the very first comment received from Mrs. Ilona from Prague, followed by more and more praises...
"The beautiful Dagmar Pecková, great Štěpán Rak. Unique selection of all musical elements and bodies. The highest level of performance of the performing musicians. Balanced dramaturgy with a beautiful scene, lightning always with a suitable design. An important motive for the whole evening was the realization of the love of the homeland and of all the Czechs through our giants who were quoted during the performances."
Thank you Dášenka, Štěpánek and all the others who participated on the concerts. We also very much thank you who came to the concert, we appreciate it. We publish snapshots of all three evenings.
We wish you all the best in the year 2017 ...... TAKE CARE.
Event overview
| | |
| --- | --- |
| Date(s): | 19., 20. and 21. 12. 2016 |
| Beginning(s): | 19:00 |
| Venue: | Lucerna - Great Hall |
| Presale: | |
Back to overview
DELICATO CENTRUM a.s. is registered under file number B 15988, which is filed with the Municipal Court in Prague
IČO: 29039983, Registered office: Jeseniova 1196/52, Žižkov, 130 00 Prague 3
Copyright © 2007 – 2023 SÁGL PRODUCTION s.r.o.