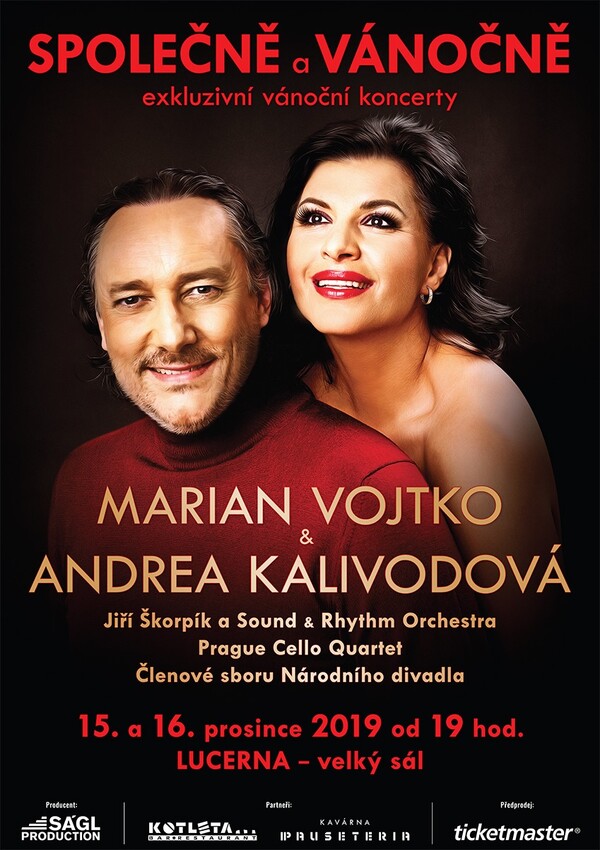 Marian Vojtko & Andrea Kalivodová
Together and Christmasy
«Together and Christmasy»
Marian Vojtko
Andrea Kalivodová
Praque Cello Quartet
Jiří Škorpík
Sound & Rhythm Orchestra
Members of National Theatre´s choir of Prague
Together and Christmasy, 15th and 16th December, in a great hall of Prague´s Lucerna.
You can look forward to Glori A Te, Cristo Gesu or Adeste Fideles in a performance of both main protagonists and National Theatre´s choir. Classical duets or musical hits from Dracula or Fantom of Opera.
Tune on the sound of Christmas and enjoy an unforgettable atmosphere in a beautiful space of Lucerna's great hall.
Event overview
Download(s)
Back to overview
DELICATO CENTRUM a.s. is registered under file number B 15988, which is filed with the Municipal Court in Prague
IČO: 29039983, Registered office: Jeseniova 1196/52, Žižkov, 130 00 Prague 3
Copyright © 2007 – 2020 SÁGL PRODUCTION s.r.o.