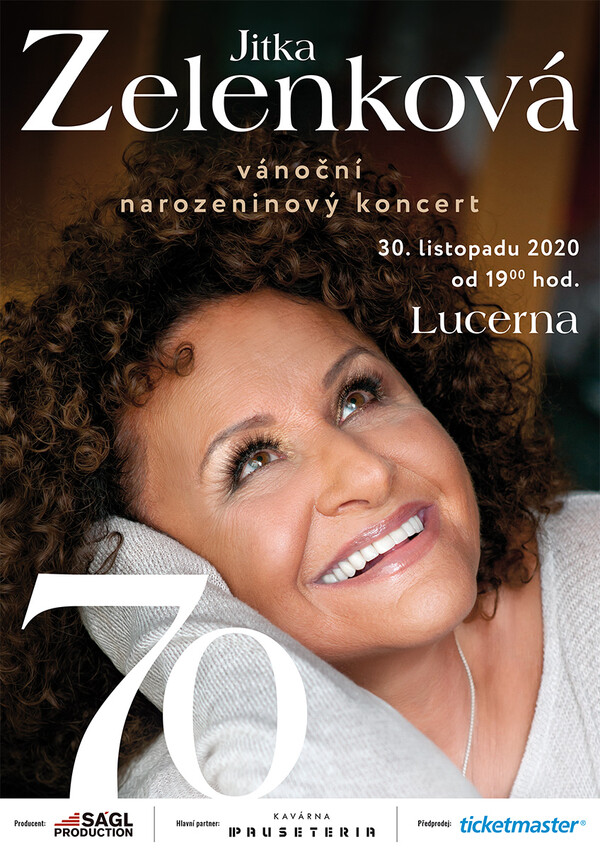 Jitka Zelenková
Christmas Birthday Concert
Jitka Zelenková will celebrate this year's anniversary with a November concert in Prague's Lucerna
Jitka Zelenková is preparing a birthday concert in Prague's Lucerna in the autumn. She will celebrate her life anniversary on November 30, 2020 and will offer listeners the best of her long list of hits. The date falls in the time of Advent, and therefore the festive character of the concert will be enhanced by beautiful melodies from Jitka's Christmas album.
Unequivocally and forever, Jitka Zelenková is forever associated with songs about love. She relies not only on beautiful melodies, but also on texts written by real masters. She communicates her feelings, moods, joys and disappointments in them and knows very well what she is singing about. In her songs, everyone who has ever been in love, will find himself. And perhaps that is why anyone who listens to her unique velvet voice can feel as if she is singing just for him.
You can Even Lie to Me, Hinterland, Storytelling in Peace, Like, We have Thing to Say to each Other, Pity will be, Without Love there isn`t Love, Wehen we are born, To have own Place, Sounds of new Hallelujah, Back and forth, Moon river and others. The Czech-Slovak classic, who recently celebrated 50 years of her musical career, is still one of the most sought-after performers of love ballads, as well as chansons and swing songs. As she tends to say, she was most influenced in her musical career by the time she was a soloist with Karel Gott. During the 14 years with the «golden nightingale», she traveled almost all over the world and gained experience as a singer that money could not buy.
She released 18 albums, the last one called Intimity was released in 2018 and once again proves that no one in the Czech Republic can enchant listeners as much as Jitka Zelenková can do with her felt velvet expression.
Back to overview
DELICATO CENTRUM a.s. is registered under file number B 15988, which is filed with the Municipal Court in Prague
IČO: 29039983, Registered office: Jeseniova 1196/52, Žižkov, 130 00 Prague 3
Copyright © 2007 – 2020 SÁGL PRODUCTION s.r.o.